In this review, I will be exploring the historical art and cultural hip hop influences for the painting Rapture by Christian Cortes. There is no singular form of eroticism. It sways from the subtle and sensual to the profane and grotesque. In Cortes' piece Rapture, he gives us both the hard and soft elements of eroticism. His graffiti lettering captures the subject like barb wired ends encompassing the softness of the female figure. Her leg slides down as if fallen out of a bed sheet of stretched letters. It is not her closed eyes, but rather her contoured body that grants this one sublime moment. With a breast exposed unabashedly, we are left to question if we are simply observing a caught prey that has given up or an open desire that has given in.
Cortes softly layered this piece with acrylic paint in varying tones after completing the underdrawing color in Conté crayon. The fluid strokes of sienna are reminiscent of the red chalk sketches of Michelangelo. The earthy color draws attention to a raw state of the human body flushed with emotion. Blood rises to the skin's surface showing us our carnality as we are left to contend with an awareness of our body and the bliss of simultaneously forgetting it.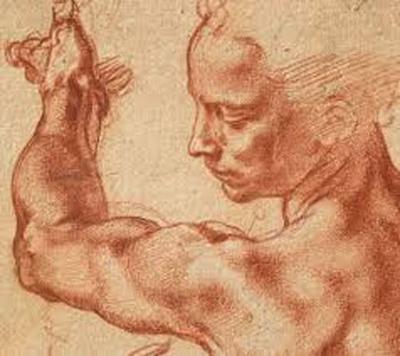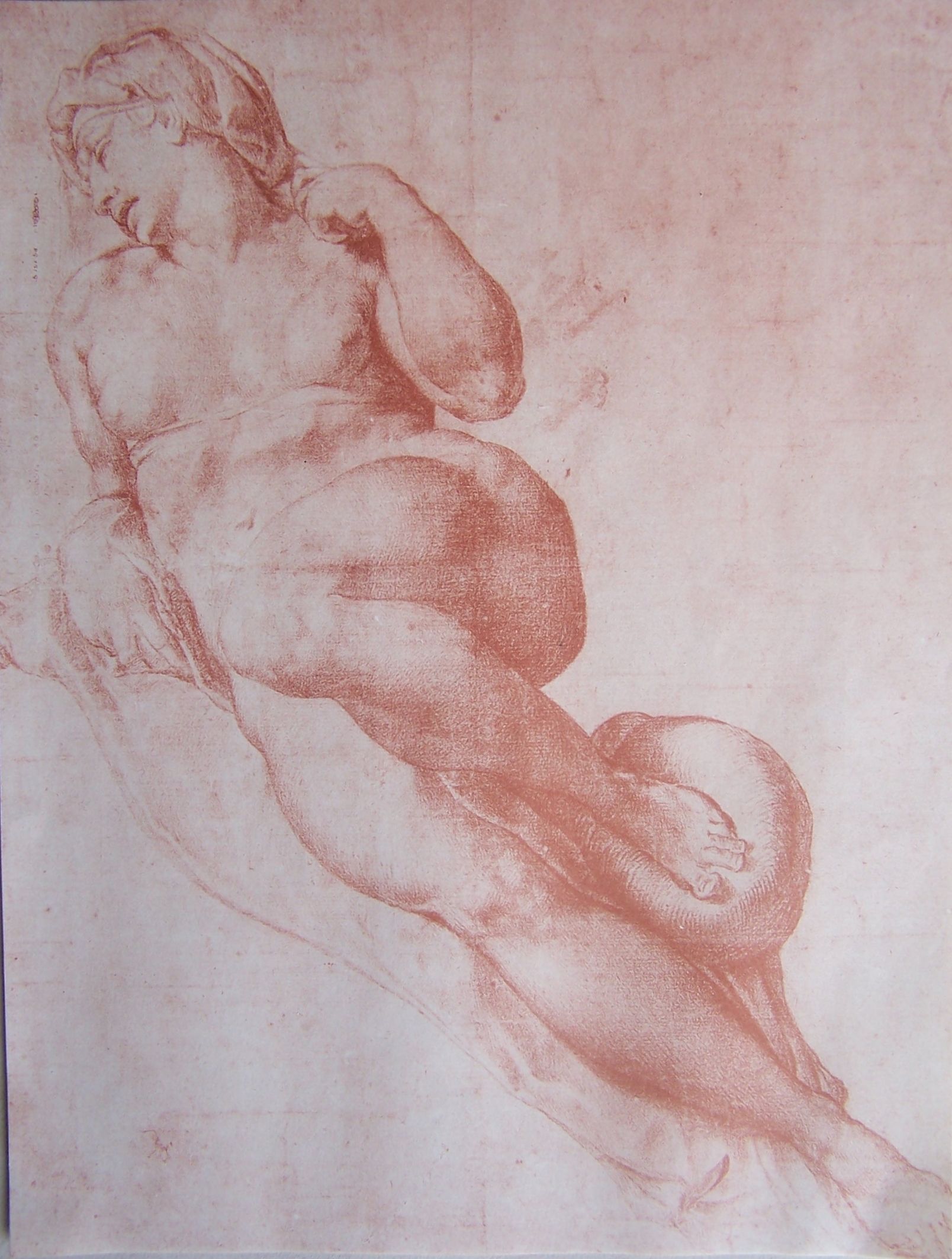 We are made to play the role of voyeur. The imagery alludes to the erotic portrait drawings of Gustav Klimt. Cortes' painting, Rapture, much like the two drawings below by Klimt, allows the viewer to place himself in the throes of another's private moment. One is aware of the privilege of viewing a body intertwined with a thought or an object with passion.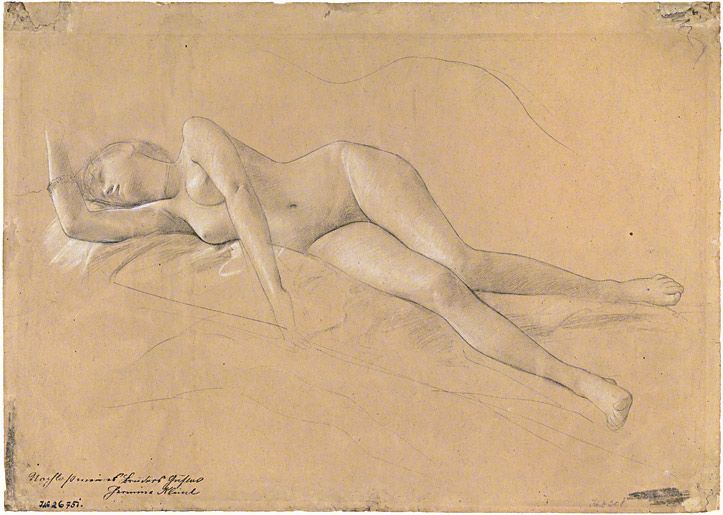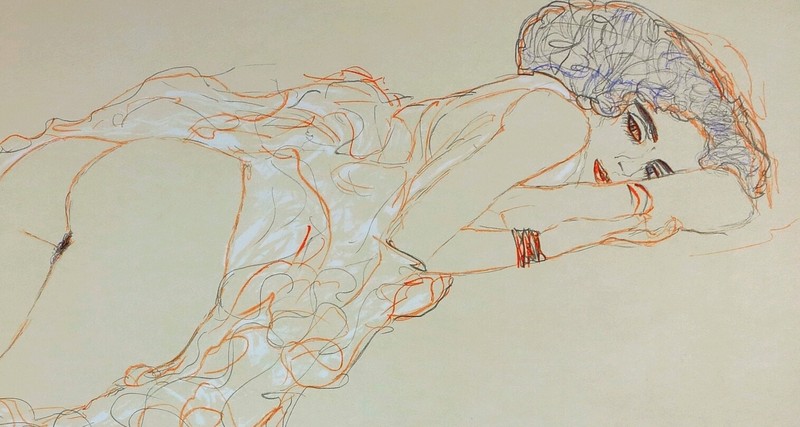 Rapture does not offer us one figure, but two. There is a dance between the female body and the lettering. The letters are another player in this scene. They are a visual display of sensations reaching in different directions to the point of ecstasy. They are the scattered hands of a searching lover. They are the comfort of two forms in one breath.
Speaking in a biblical sense, the title of Rapture, leans into the ramifications of succumbing to sin and selfish indulgences. This end of days is a repercussion for those who choose to live in the present moment.
Cortes' piece draws from Blondies' music video of the same title showing a parade of carefree characters living up the night to a backdrop of graffiti. KRS-One's song Step Into a World, then adds a layer of hip hop culture inviting us to step into a world that has provided a source of salvation through the expression of words and body movement.
For many who grew up in the 1980's – 90's, the elements of hip hop provided an act of release, a gesture of praise, a documentation of life's struggles and the honoring of one's self. It is a form of self-care and visibility for a community who wants a choice on how they wish to be heard or seen. As for the subject of Cortes' art, I would like to think this is how she would want you to see her. She is the shape of a woman found in her truest form.
Rapture, Una Danza Entre el Cuerpo y las Letras
Traducido por Carla De Puerto Rico
En este análisis, estaré explorando las influencias del arte histórico y la cultura del hip-hop en la pintura Rapture por Christian Cortes. No existe una forma singular de erotismo. Pasa de lo sutil y sensual a lo profano y grotesco. En la pieza Rapture de Cortes, el artista nos da los elementos duros y suaves del erotismo. Sus letras de graffiti captura el tema como extremos atados con alambre que cubren la suavidad de la figura femenina. La pierna de la fémina se desliza hacia abajo como si se hubiera caído de una sábana de letras estiradas. No son sus ojos cerrados, sino su cuerpo contorneado que otorga a este momento sublime. Con un seno expuesto descaradamente, nos crea la duda si simplemente estamos observando una presa capturada que ha renunciado o un deseo abierto que ha cedido.
Cortes suavemente delineó esta pieza con pintura acrílica en diferentes tonos después de completar el color del trazo en crayón Conté. Los movimientos fluidos de siena nos recuerdan a los bosquejos con tiza roja hechos por el pintor renacentista Miguel Ángel. El color de la tierra enlaza con el estado crudo del cuerpo humano enrojecido por la emoción. La sangre se eleva hasta la superficie de la piel, mostrándonos nuestra carnalidad, ya que nos quedamos con una conciencia de nuestro cuerpo y la dicha de olvidarla a la misma vez.
Estamos hechos para desempeñar el papel de voyeur. Las imágenes aluden a los dibujos eróticos de Gustav Klimt. La pintura de Cortes, Rapture, al igual que los dos dibujos de Klimt, permite que el espectador sienta la angustia del momento privado de otra persona. Se hace real el privilegio de ver un cuerpo entrelazado a un pensamiento o a un objeto con pasión.
Rapture no nos ofrece una figura, sino dos. Hay una danza entre el cuerpo femenino y las letras. Las letras son otro protagonista en esta escena. Son una muestra visual de las sensaciones que se alcanzan en diversas direcciones al punto del éxtasis. Son las manos dispersas de un amante que busca. Son la comodidad de dos formas en una sola respiración.
En sentido bíblico, el título del Rapture, se inclina a las ramificaciones de entregarse al pecado y las indulgencias egoístas. Éste final de los días es una repercusión para aquellos que eligen vivir en el momento presente.
La pieza de Cortes se basa en el video musical de Blondie del mismo título que muestra un desfile de personajes despreocupados gozando la noche en un fondo de graffiti. La canción de KRS-One Step Into a World agrega un elemento de la cultura del hip-hop que nos invita a entrar en un mundo que ha aportado una fuente de salvación a través de la expresión de palabras y el movimiento corporal.
Para muchos de los que crecieron en los años 80-90, los elementos del hip-hop proporcionaron un acto de liberación, un gesto de ensalzación, una documentación de las luchas de la vida y el honor a uno mismo. Es una forma de autocuidado y visibilidad para una comunidad que quiere una elección de cómo desea ser escuchado o visto. En cuanto al tema del arte de Cortes, me gustaría pensar que así es como ella querría que la vieras. Ella es la forma de una mujer encontrada en su forma más verdadera.